---
Posted: 17 May 2010 01:51 PM PDT
This post is part of our daily series of posts showing the most inspiring images selected by some of the Abduzeedo's writers and users. If you want to participate and share your graphic design inspiration, just send us, via email, the image with the link from where you found it, also use "Daily Inspiration" in the subject, and don't forget to send your Abduzeedo username; or via Twitter sending to http://twitter.com/abduzeedo
If possible use the HTML code: <p class="imgC"><a href="Link to the page you found the image"><img src="Link to the Image" /></a></p>
Do you want to see all images from all Daily Inspirations? Check out http://daily.abduzeedo.com
2D
Artur Kjá
Benjamin HEINE
Benoit Millot
A day in PARIS from Benoit MILLOT on Vimeo.
Christopheraymond
DevilEm
Dews Design
Edwardo
Ely Lima
Fabiano
Fabio
MTV PUSH Promo (Director's cut) from Nick Scott Studio on Vimeo.
Felix Maiwald
Gisele
Gospel
lassedesignen
Leigh
JAMT
Javelines
Jose Berrío
jtownboy
LebDesign
Luis Afonso
Marc Scherer
OvertonGraphics
PooshtioO
Romain Jacquet-Lagreze
Tschai
Via Twitter
Send your suggestions via Twitter to http://twitter.com/abduzeedo using #abdz in the end of the tweet.
@alemdasideias
@allrox
@daniel_nelson
@Nervewax
@rantan
Posted: 17 May 2010 06:43 AM PDT
It's time to remember a bit of the past, these vintage ads are really cool. If you remember some of them you provably thinking to yourself how fast things evolve. If you never seen them before you definitely going to get a good laugh and ask yourself; was that really real? Check them out and enjoy!
<!--break-->
Which one did you remember from the past?


Motorola - It's Spring, Portable Time


Honda - Discover Honda's Wonderful World of Fun


Kodak - Under $50, no Kidding


Cromemco - The new 16k Ram


Penril - Penril Modem


Timex Computers - The Power is within your reach


Atari - No other video game stacks up to Atari


Holliday Inn - Reserve the world in seconds


Honeywell - Your computer is a monster?


IBM - A computer in New York will put you on a jet in Los Angeles


Sharp - The first laptop design to be your first laptop


Rockwell AIM 65 - For learning, designing, work or just plain fun...


Armor All - Protectant fights rot on


Atari - More capabilities than any other personal computer


Coca Cola - Tea Break


Firestone - Grease is rolling on firestone super stones


XCOMP - The hard disk you've been waiting for


System Industries - Now you can get our disk systems in 30 days


Atari - Why Atari is #1


ISC - Putting color to work in computers


Sinclair ZX81 - The Personal Computer


Revox - Setting standards


Seven & Seven - Great taste you can count on


Timex Sinclair - 72k Color Sound


Air Force - The eagle is back
Tiny Things, Flies and Creativity - Photos by Ukaaa
Posted: 17 May 2010 05:58 AM PDT
I already mentioned here that I love macro shots. And last week, while browsing for some inspiring images, I bumped into Ukaaa's work and I simply loved it! He combines tiny things, some flies and lots of creativity to compose really funny shots. Ukaaa, or Nicholas Hendrickx, is a very talented photographer from Belgium who got a flickr account in 2007 to show his growing interest in photography.
I like to experiment with original ideas and compositions, I'm a perfectionist with great patience and an enjoyer of life and its little details... :)

Though some of my digital macro shots might look unrealistic to you, all of them are 100% real and no Photoshop was used to edit them, except for some white balance or contrast issues, or to remove dust on the macro filters.
I really liked his 'The Adventures Of Mr. Fly' series, you should check it out at flickr. Take your time and browse around his gallery, it has plenty of nice shots to look! Hope you like it as much as I did. :)
3D Water Text Effect with Repoussé in Photoshop CS5
Posted: 17 May 2010 04:03 AM PDT
Last year I wrote a tutorial called Incredibly Realistic Water Text in Cinema 4D and Photoshop where I created a text made out of water. I had to use Cinema 4D to create a 3D object then I imported this 3D file in Photoshop where I mixed with some stock photos. Now with Photoshop CS5 Extended and the Repoussé tool we can create 3D objects direct in Photoshop, so I decided to recreate that effect.
So, in this tutorial I will show you how to create a water text. Even though it might look complex it's a very simple effect. We will be using the new Repoussé then some stock photos to create the effect.
Step 1
Open Photoshop and create a new document. Fill the background layer with black and using the Brush Tool (B) or importing a vector file with a handwritten text. You can the one I used in the PSD file that you can download in the end of this tutorial.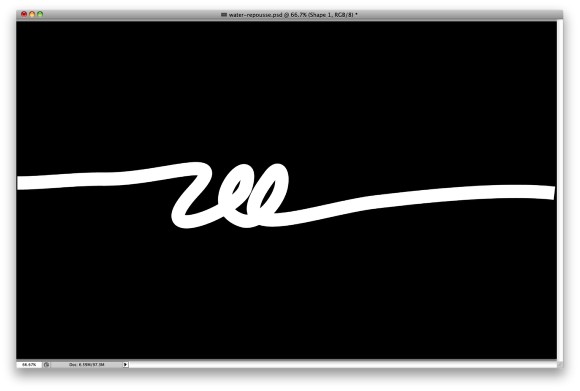 Step 2
If you create a text using the brush tool or importing a vector and paste it as bitmap, create a marquee selection of the area you want to apply Repoussé. With the selection active go to 3D> Repoussé>Current Selection.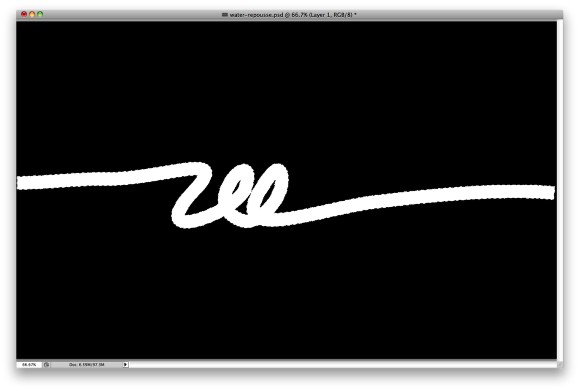 Step 3
To create the water effect we will use the Inflate preset and pretty much use the same values we used in the previous step, the Inflate 3D type. Change the Depth to 0 and the Scale to 1, also for the Inflate, change the Slides to Front and Face.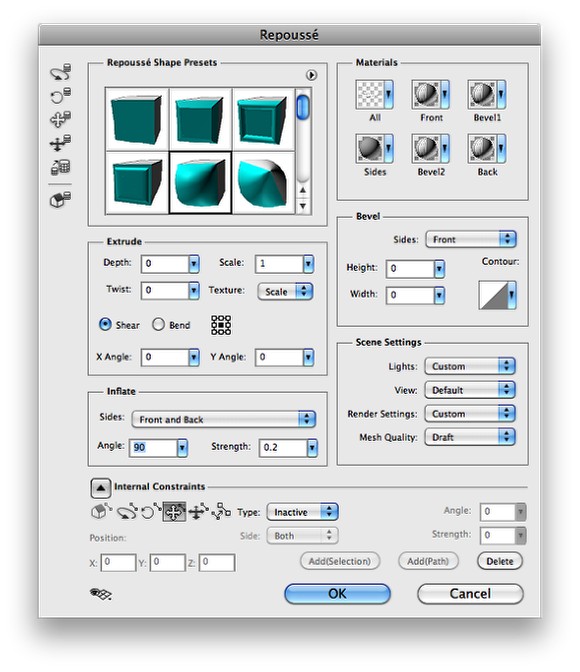 Step 4
You will notice that the E will be a solid block and the hole will be lost, then select the area that you want to be hole and then change the Type to Hole. Also increase the Strength of the Inflate to 1.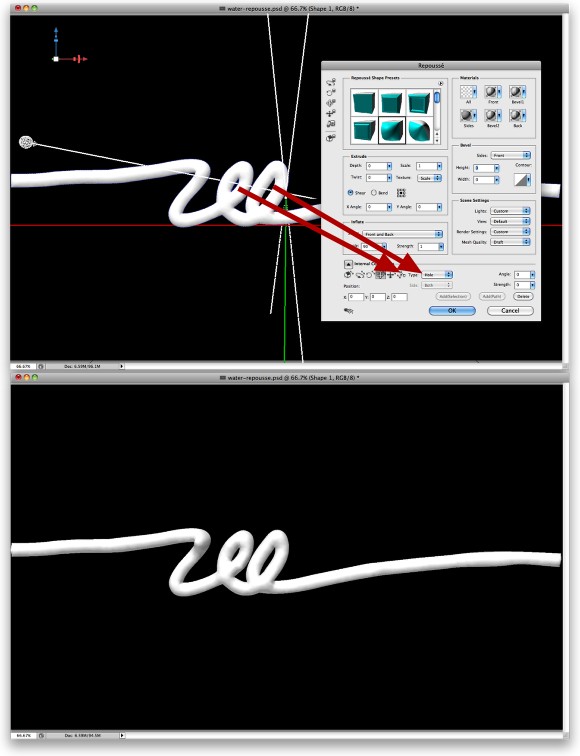 Step 5
Select the Front Inflation over the 3D Palette and then click on the folder next to the Bump values. Select Open Texture to open the texture in a new document. Then in this new document create a new layer and go to Filter>Render>Clouds. Make sure that you are using black and white for the colors. After that go to Filter>Render>Different Clouds. If your result is too dark, go to Image>Adjustment>Levels, then increase the white input. This texture will be the Bump map, which will distort our 3D text.
For the other values, use white for the Diffuse color, 15% Opacity, 20 for the Reflection, Black for the Illumination, 100% Gloss, 100% Shine, white for the Specular and 1.5 for the Refraction. You can render here to have a preview of the 3D effect.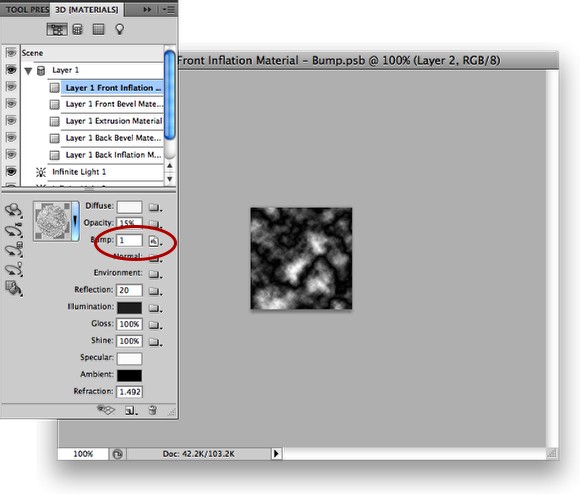 Step 6
Now to make our effect more realistic let's mix some stock photos. The one I used is from Stock.xchng (http://www.sxc.hu/photo/884261 and http://www.sxc.hu/photo/1131843). Open these 2 images in Photoshop. Copy some parts of the water splash from the photos and paste it in our 3D image.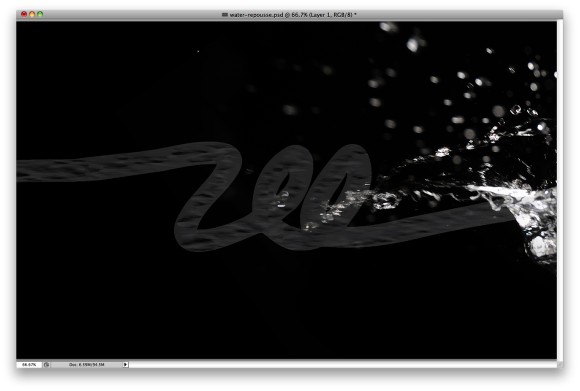 Step 7
Repeat the process, copy and paste more splashes. As the water splashes from the photos have black background, just change the Blend Mode to Screen, so the black will be transparent.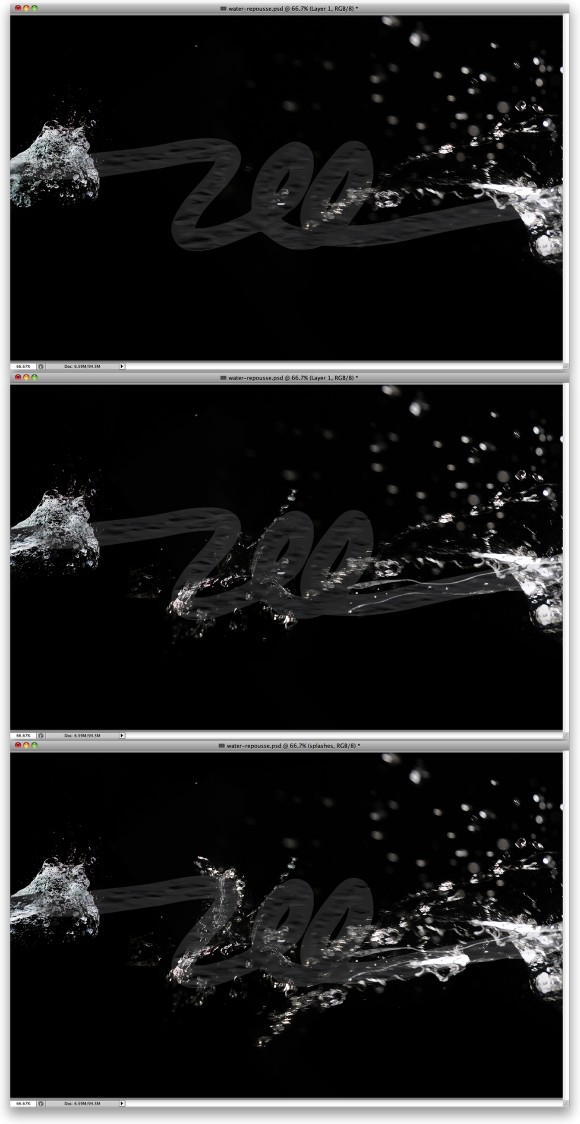 Step 8
Time to Render our 3D object. On the 3D Palette change the Quality to Ray Traced Final. It will take a few minutes to render the 3D object. If you want to change the lights you can do that and render it again until you find the best result.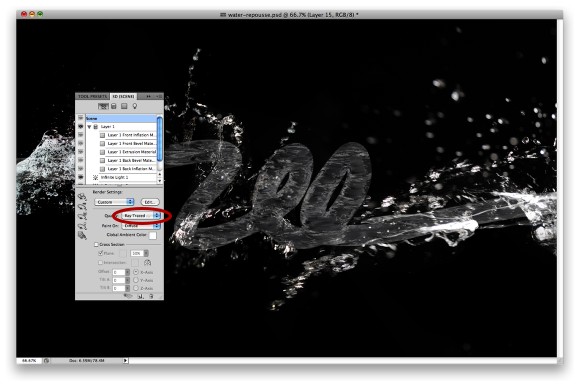 Step 9
Duplicate the rendered 3D object and go to Layer>Rasterize>3D. I will rasterize the 3D object so I can apply some image adjustments, I could do that with the 3D layer but some wouldn't work the way I want or it can get a bit slow.
Add a new layer and fill it with black, then merge the black layer with the 3D rasterized layer. After that go to Image>Adjustments>Levels. Use 15 for the Black, 0.8 for the Grey and 160 for the White inputs.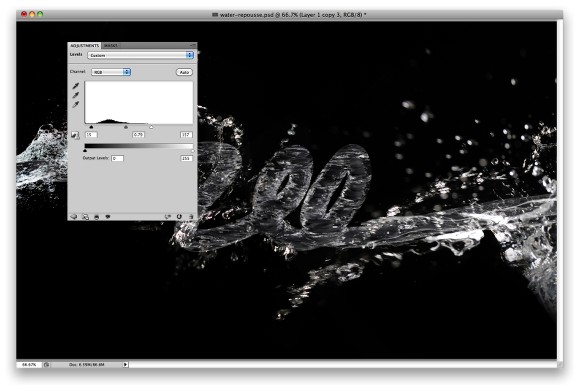 Step 10
Select all layers and duplicate them. After that go to Filter>Blur>Gaussian Blur. Use 15 for the Amount. After that change the Blend Mode to Color Dodge and the Opacity to 30%.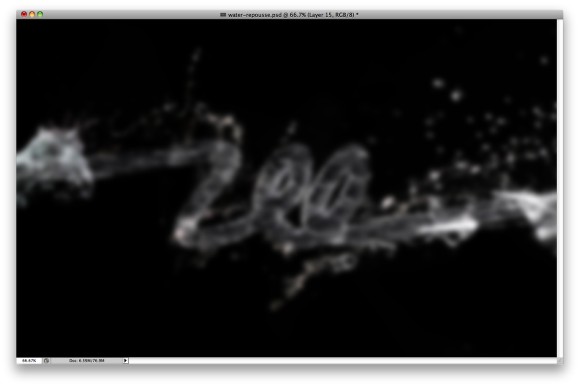 Conclusion
Last year I created this effect using Cinema 4D to create the 3D part, which was really simple as well. However now with Repoussé in Photoshop CS5 Extended we can do everything, in this case the 3D part, in Photoshop. I have been playing quite a lot with Repoussé and there are lots of new things that we can create with this new tool, this water effect is an example. I hope you enjoyed it and now it's up to you.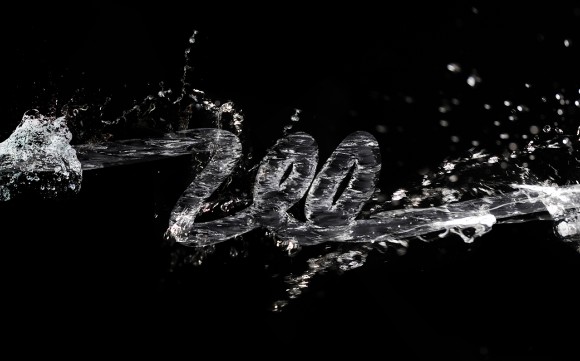 Click on the image for full preview.
Download the Photoshop File
Click here to download the Photoshop file used for this tutorial.
Posted: 16 May 2010 10:44 PM PDT
We've seen some great gadgets and equipment for designers. So many cool stuff, that we could actually assemble infinite perfect office spaces! Every week we'll assemble a perfect office, and we'd like you to help us. What equipment would the perfect office have?
<!--break-->
Not only gadgets and equipment, but also furniture, sound system, gaming stuff (for lunch time!). A designer is totally allowed to dream with the perfect office, and that's what we're gonna do here! Comment telling us your suggestions, or even better, you may tell us via twitter (mine and fabio's), using #abdz_ofc so we can check it. Alright? I hope you guys enjoy this brief selection. Cheers! ;)
Pisa Sofa and Chair by Ramei Keum
Stability through balance is one out of elements considered when furniture is designed. However, it can be an element limiting design. I wanted to design a stable and convenient sofa in reality although it looked unstable. This form leaned forward as The Leaning Tower of Pisa is a characteristics in this sofa's form and helps this sofa play a role as a point furniture giving tension to simple space. (at Design Milk)
Skullcandy Roc Nation Aviator Headphones
Dre has Beats, Lady Gaga has her Heartbeats, and now Jay-Z has entered the personal audio game with Skullcandy Roc Nation Aviator Headphones ($TBA). Co-developed by his Rocness and Skullycandy, these over-the-ear 'phones sport 40mm full-rage mylar drivers, an aviator-inspired contoured fit, a tangle-free nylon cable, and tons of style courtesy of a glossy polycarbonate speaker housing with stainless steel and aluminum accents. Padded carrying case included; Grammy-winning diva wife optional. (at Uncrate)
Ballon USB Speaker
Up, up and away with my beautiful balloon! Kawaii? Definitely. These colorfully spongy "balloons" by Yuen'to Design of Japan get you flying on your favorite tunes. Or use it with your mobile phone. The foam ball fits comfortably in your palm. USB recharging takes about two hours and keeps the little balloon sounding off for about 4.2 hours at max volume. Turn it up! Audio cable included for playback. (at A+R)
Solar-Powered Battery Gives You 29 Ways To Charge, Choose One
f you're ready to start making this whole solar power thing work for you, this 20,000mAh battery, which comes with 29 adapters for charging phones, MP3 players, cameras and laptops of all stripe, will keep all your gear covered. Charging the battery with the power of the sun will take about eight hours, whereas plugging into AC will get it done in only three, but once it's full it'll work with just about any gadget you throw at it. (at Gizmodo)
Optimus Popularis Keyboard
Even though things have been very quiet at Art Lebedev recently the company has just released news that they are still working on the Optimus Popularis Keyboard. But unfortunately its not going to be OLED as thought but it will still be full colour. Rather than having a tiny screen for each key its thought that the design will have one large screen with the keys sitting on top of it. (at Geeky Gadgets)
Dell Studio XPS 7100 desktop computer
Dell has announced a new Studio XPS computer today that can be equipped with the recently introduced AMD Phenom II X6 CPU with Turbo Core technology. The company is called the Studio XPS 7100. Dell is also offering machines with other new AMD quad-core Athlon II processors.
The new machines are aimed at 3D gaming and multimedia users. The XPS 7100 is packed with features like a 460W PSU promising enough power for expansion in the future. The rig can be fitted with 16GB of DDR3 RAM and up to 4TB of storage space. (at Slash Gear)